This Valentines Day greeting depicts
Shigella flexneri
(green) and its actin tails used to escape the phagosomes of
macrophages
[w]. Gullible people like me could think that the was a genuine finding - but it was photoshopped.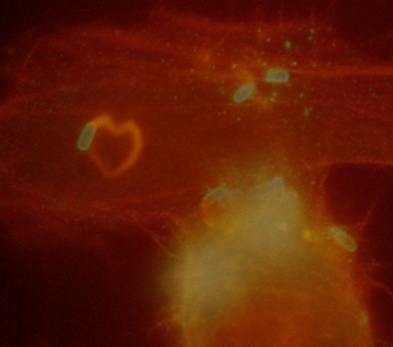 Following the stem cell fallout, journals are in the process of reviewing their publishing policies for scientific papers.
Nature's
is published in the current issue, including the requirement that all "enhancements" performed on the complete picture. I wonder whether such manipulations could be detected reliably and whether there are cases where image manipulation was the main route to a publication. My impression is
that the submission of a positive control as a confirming sample is the most travelled route in fraud.
[More on actin tails in
Nature Reviews Microbiology
[s]. Thanks for the picture, Sebastian!]
spitshine - 2006-02-23 20:13